The Hindu mythology has Annapurna, the Egyptians had Hapi, and the Greeks, Demeter. All the known cultures in the world have a separate God attributed to food. This is a testament to the importance given to food and health by humans. Surveys have found that almost 36% of the masses lack a key nutritional element in their diets. Keeping this in mind, focus has shifted on finding foods that promote health and provide proper nutrition. Let's talk about one such food category – the Millets.
So what are these super foods?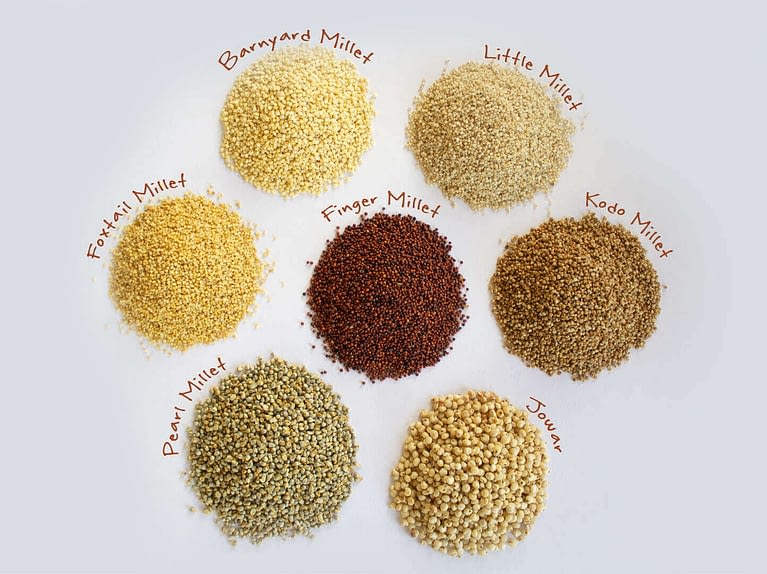 Millets are basically cereal crops that have characteristic short grains. Although they might seem to have made an appearance on the scene right now, these are the very same grains like Jowar, Bajra, and Rajgira that have been cultivated and consumed by our forefathers since many years. They comprise a variety of cereals such as Pearl millet, Sorghum, Foxtail millet, Finger millet, Varagu millet, and others (Refer below for the  list of commonly found millets in India). Even though they vary in their taste and appearance, they have one thing in common – ample amounts of nutrients! Read on to find out why these "coarse" grains are known as the "modern superfoods".
Millets and their names in different languages
| English Name | Hindi Name | Marathi Name |
| --- | --- | --- |
| Pearl Millet | बाजरा | बाजरी |
| Sorghum | ज्वार | ज्वारी |
| Ragi | रागी | नाचणी |
| Foxtail millet | कंगनी | राळं |
| Little millet | कुटकी | वरी |
| Proso Millet | चेना | वरी |
Why should Millets be a part of your diet?
1. Protection against ailments -
These super foods have a wide variety of health benefits which include reducing the risk of anemia, calcium deficiency, and heart-related disorders amongst many others.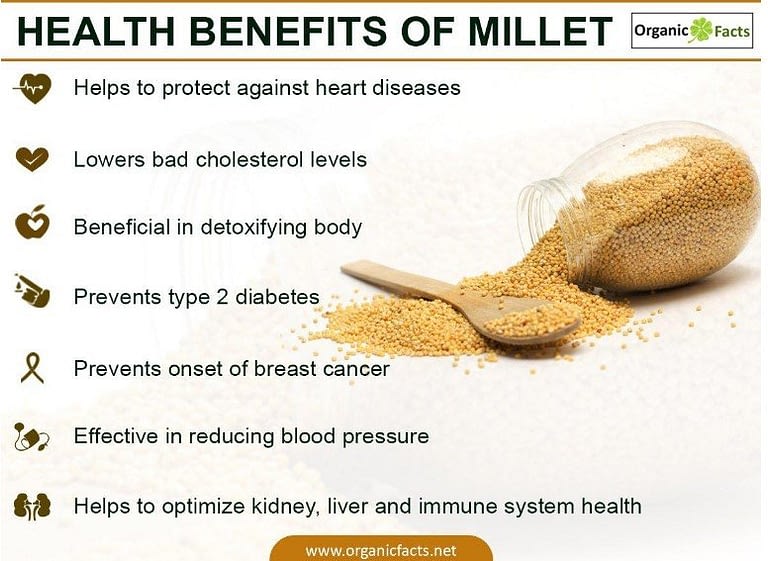 2. Good source of essential nutrients -
These cereals are a rich source of compounds that are needed by our body for our daily functions. Eating them ensures our body gets enough Amino acids, vitamins, enzymes, and micronutrients such as magnesium and phosphorous. As we can see from the two figures given below, it can be thus concluded that Millets have a high content of Fibres, Iron and Calcium as compared to other commonly consumed crops like Rice and Wheat.
3. Boosting immune system -
Nutrients such as Iron and Zinc, which are found in ample quantities in these grains, provide a boost to the functioning of your immune system. Hence, consumption of Millets is known to boost immunity and fight off common infections like flu.
These grains are a rich source of fibres that result in improving digestion. They promote a healthy gut and prevent common stomach disorders. They also have the additional benefit of being gluten-free and do not form acid. With the digestion being top-notch, your overall health of other associated organs such as the liver and kidney is also improved.
5. Reduces risk of Diabetes -
Studies have shown that these super foods have a significantly lower "Glycemic index" than the rest of the grains, which  increases the sugar gradually. The glycemic index (GI) is a value used to measure how much specific foods increase blood sugar levels. Due to this property, the risk of diabetes is highly reduced in people consuming millets regularly.
6. Helps in losing weight -
Millets have a high satiety value which is very effective in controlling food intake. People who want to control their weight find this food group to be a blessing as even a small portion of millet rich food can fill up the stomach for a long period of time.
Wait, there's more! Apart from the nutritional benefits, here are some more reasons to encourage the use of these super foods in our daily lives –
Apart from their health benefits, these grains are also very sustainable as they do not require excessive water or harmful chemicals for their growth.
Millets are indigenous crops that have been traditionally grown throughout India. As a result, they can be obtained easily, no matter where one lives. Not to mention, you will be supporting the #makeinIndia and #vocalforlocal movement!
Millets are thus good for your body, better for the environment, and best for your pocket!
All things considered, in this world of sugary processed foods, our bodies would definitely be happy if we supplemented our dietary habits with millets. If you are confused about how to begin incorporating these super foods into your daily diet, Envirofoods has come up with wholesome food items that comprise of the goodness of millets. These items come in many shapes and forms, that too without compromising on the nutritional balance! So grab the instant mixes for a healthy breakfast, or snack on the delicious noodles without guilt, it's totally up to you! Click here to know more about the millet food products that Envirofoods has to offer.
Let us march towards a healthy way of life. Let us get milletized!
References that were used –
https://www.icrisat.org/a-short-history-of-millets-and-how-we-are-recognising-their-importance-in-the-modern-context/
ScienceDirect- Chapter 1 – Millets, Their Importance, and Production Constraints
https://en.wikipedia.org/wiki/Millet
Millets-The Nutri-cereals — Vikaspedia
https://millets.res.in/m_recipes/Nutritional_health_benefits_millets.pdf
https://pristineorganics.com/millet-ancient-grains-for-a-healthier-future/
www.organicfacts.net
https://www.kresent.com/benefits-of-millets/
https://www.kaulige.com/blog/2017/six-reasons-to-eat-millets-everyday/
http://www.dietandfitnesstoday.com/sugar-in-millet.php
http://medcraveonline.com/MOJES/MOJES-02-00013.pdf